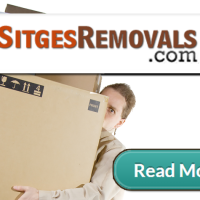 Sitges is a destination, that many travel a long way, to relocate to.
From across Europe, Spain, Cataluyna & especially the UK.
Requiring shipping, transport services & even Pet Chauffeurs.


Additionally, low Sitges rents (relative to London & many cities) result in a lively rental market. And therefore short distance removals, of just a van or large 4×4 size, amounts.
With locals moving around the town to check out beach or hillside living. And new arrivals from Barcelona or others looking to move away & try city life.
Removal services include:
Small local transport jobs (subject to availability)
International Shipping from Europe, USA, Russia
Vehicle delivery & transport to & from Barcelona, Sitges, Catalunya
Return shipping from Sitges, Catalunya
Deals & Offers for UK transport
Occasional ride along options (by arrangement)
Sea freight for large consignments
Increased insurance arrangements on demand
Fragile, Dangerous & valuable transport  (subject to availability)
Collection of local purchases in & around Sitges (subject to availability)
Collection of stock for businesses in & around Sitges (subject to availability)
(may require a monthly arrangement, to help businesses minimise transport costs)
Look for Sitges accommodation to rental or purchase via Sitges.Property