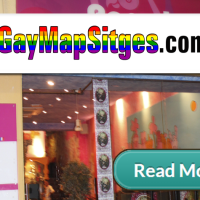 Sitges is well renowned for it's Gay Venues.
Offering more than just Gay friendly environments.
Some restrict clientèle to men only, especially during busy months.
But welcome women, when quieter.
There is one Lesbian bar in Sitges
Gay Sitges offers:
Businesses that are proud of their Gay ownership,,
including various restaurants
Bars of many kinds, some with outside seating, to see the world go by
More risqué Gay bars & darkrooms, that cater for adventurous men
Several nightclubs, with foam & cruising nights
Drag queen & live entertainment that can appear anywhere!
Map of Sitges Gay Venues
Book a 'Drag Queen Cabaret Show', in Sitges Barcelona: Sitges Live