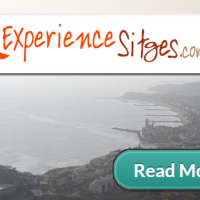 A site about things to do in Sitges & a reasonable drive away.
Sitges in summer, cannot be beaten!
Who would want to leave the Mediterranean beaches and lively town,
Even if, on a return visit!
Plus it can be too hot to do too much comfortably.
But then their is the rare cloudy day and Winter
This is where this site can help you go it alone
(Tours & Excursions in Catalunya are mentioned below)
Sitges has cultural & historic experiences to enjoy.
Plus Garraf Natural Park, immediately inland, Barcelona & Catalunya offer a wealth of energetic & exiting experiences.
These include:
Museum & Church tours in Sitges
Walks, Treks & Cycling Excursions around Sitges
Walks, Treks & Cycling Excursions in Garraf
(massive natural park, behind Sitges)
Tours of Barcelona & it's Museums
Excursions on Catalunya's Roman Past
Caves throughout Catalunya
Catalunya;s Civil War past & Battlefields
Trips to various rural locations around Catalunya
Trips to various towns around Catalunya
Boat trips along Sitges Coast & Barcelona
Sitges & Catalunya Experiences Info:
Culture (6) Historic (16) Hobbies (5) Museums (5) Nature (12)
View all »
Sitges * Cataluyna Tours
Rural Tours (6) Sitges Tours (2)
View all »
For Catalunya Tours, see 

Catalunya Tours – CatalunyaTours.com
For Catalunya Excursions, see 

Catalunya Excursions CatalunyaExcursions.com