Sitges Booking Facilities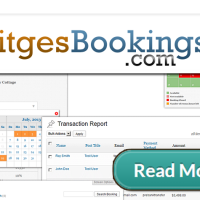 Sitges & Barcelona can be regarded as the epicentre for Hospitality
in Cataluyna & arguably Spain.
Making the ease of booking the best holidays & accommodation, important, for many local businesses.
On behalf of partners & search savvy customers.
Sitges is a testing natural testing ground for perfecting & benefiting from the Internet.
With it & Barcelona, as the host for many technological events & conferences.
Including our renowned… 'Mobile World Congress' for mobile interconnectivity.
A channel that already accounts for most online purchases & bookings, for almost every product & especially for the hospitality & entertainment industry.
Recognising the best choices of booking processes, for Bars, Restaurants & Hotels… is worth it's weight in gold.
Services can include:
Options for hospitality venues of various sizes, small to large
An evaluation of your business environment & competition
A review of your business & current resources
The development of a strategy to meet your goals & go forward
The presentation of available software, products & faculties
Low cost, 'Hand holding' services, during roll out
Implementation of the total project 'hands on'
Advice & help to locals, within our tourism club
Map of
Sitges Deals & Info
A guide to offers, events and Information, in and around Sitges, Barcelona