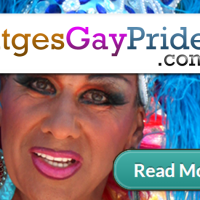 Sitges Gay Pride is a famous event bringing  over 300,000 party goers to Sitges, at it's height.
A wild, colourful and noisy 'Mardi Gra' type carnival on the promenade and streets of Sitges. One of the world's top 10 gay carnivals.
Over 7 days with amazing parades, shows and parties.
Sitges Carnival Carnaval Parade Photo Gallery
Highlights:
Parades are often on the Sun and Tue
Over 40 floats filled with beautiful people, young and old, of every persuasion
Drumming, sound systems bands and dancers
Scantily dressed dancers and audience, in colourful, wild and fun costumes
One of Europe's safest, wildest, street carnival
Many stay out, right through to and after dawn
Sin street, the pedestrian road of bars, remains packed with costumed visitors well into the morning.
Sin street bars are fun, but can try to charge for entry (some years)